BusConnects Network Redesign Public Consultation
The NTA is proposing numerous changes to public transport in the Greater Dublin Area. The bus element of these efforts has been dubbed BusConnects and includes three parallel strands of activity, that is
Infrastructure and bus priority measures, such as new bus lanes. The NTA has indicated that there will be a public consultation on this on October 2018
Improvements to fares and ticketing such that passengers can change from one mode of transport to another without incurring additional cost
A redesign of the bus network. A public consultation on the proposed  Dublin Area Bus Network Redesign is currently underway  and continues until September 28th 2018.
Key routes for Celbridge under the proposals are
the C4 to Ringsend via HP, Leixlip, Lucan, N4, Quays
the W8 orbital route between Maynooth and Tallaght taking in Celbridge, Hazelhatch, Newcastle, Saggart, Citywest
the 259 local service linking Hazelhatch, Clane Road, Aghard's Road, Gleneaston, Leixlip Confey
the 324 peak only service (3 morning + 3 evening buses by Aghard's Road, Clane Road, Leixlip & Lucan then N4 to city then onto UCD via St. Patrick's Cathedral, St. Stephen's Green, Baggot St, Ballsbridge) is shown on page 19 of the Dublin South West brochure.
Celbridge Community Council has made a submission on the BusConnects Dublin Area Network Redesign based on the public transport provision we believe is needed in Celbridge. These views are based on those expressed by many from the Celbridge community over a number of months regarding use of public transport. The BusConnects proposals address a number of our aspirations but we consider the complete removal of an express service from Celbridge by virtue of all buses being routed through Leixlip and Lucan to be a grave mistake. The 324 bus route is described as "express" but there is nothing express about it due to the routing. Given traffic problems in the town, BusConnects needs to be ambitious about encouraging a modal shift from private cars to public transport but we fear that the proposals we are seeing for a downgraded connection to the city centre will do the opposite and further exacerbate traffic problems in Celbridge.
Celbridge Community Council has prepared a series of videos to illustrate how the commutes of a number of typical residents of Celbridge would change under the new proposals. Have a look and follow the discussions on our Facebook page...
Emily travels from St. Patrick's Park to Tallaght Hospital Coming soon...
Isabella travels from Abbey Farm to IT Blanchardstown Coming soon...
James travels from Celbridge Abbey to Citywest Coming soon...
What can you do about the BusConnects Proposals
Stay informed
The 28th September 2018 deadline for submissions on the Dublin Area Network Redesign proposals has now passed but we hope that there will be a subsequent consultation in the new year.  A public consultation on the infrastructure aspects of BusConnects is also expected.
Stay informed on when public consultations are happening by keeping an eye on the www.busconnects.ie website or BusConnects Facebook page. Celbridge Community Council will be watching out too and will publicise upcoming consultations so if you stay tuned on our Facebook page you shouldn't miss it!
...but in the meantime
Read the Bus Network Redesign for Dublin North West Brochure, the  Bus Network Redesign for Dublin South West Brochure and other documents on the BusConnects Dublin Area Bus Network Redesign website
Play with the interactive map that shows how far you can get at midday in 30 minutes, 45 minutes and 60 minutes (doesn't work on mobiles!) - these times include an average wait time of 12-15 minutes
Get involved in conversations on our Facebook page.
Let our elected representatives know your views
Consider how you feel about the following
What's good, what's bad and what can be improved? How do you feel about each of the following?
The W8 orbital route from Maynooth to Tallaght via Celbridge, Hazelhatch, Newcastle, Saggart, Citywest. Will this open up work/ study destinations for you or members of your family?
The 259 local route connecting Hazelhatch to Leixlip (originally planned as Confey but may get changed to Riverforest) via Hazelhatch Road, Clane Road, Shackleton Road, Aghard's Road, Gleneaston, Leixlip Main Street, Captain's Hill. How well does this suit your needs for getting to Leixlip? The closest it gets to Louisa Bridge is 7 minutes walk away and it passes even further from Intel.
The replacement of the 67 with the new C4 route which will go through Leixlip. The C4 will start at the Salesian College, come down the Maynooth Road, through the village, turn left at Young's Cross and proceed along the route of the current 66B from Hewlett-Packard.
The removal of all 67X express buses (4 via Maynooth Road, 5 via Aghard's & Clane Roads) in favour of only 3 peak-time only 324 buses via Aghard's & Clane Roads - the 324 is proposed to go through Leixlip and Lucan unlike the 67X which travelled express along the N4 from Celbridge to Liffey Valley
The fact that commuter rail from Hazelhatch and Leixlip may not be included in the 90 minute fare (proposal states that only Dublin Bus, Luas and DART journeys are included)
The fact that the TII 139 bus from Naas to IT Blanchardstown via Leixlip  is not included in the 90 minute fare
The fact that the Bus Eireann 120 is not included in the 90 minute fare
Connectivity to neighbouring areas (e.g. Maynooth, Leixlip, Lucan, Newcastle, Blanchardstown, Clondalkin, Citywest etc.)
How Celbridge residents commute to Dublin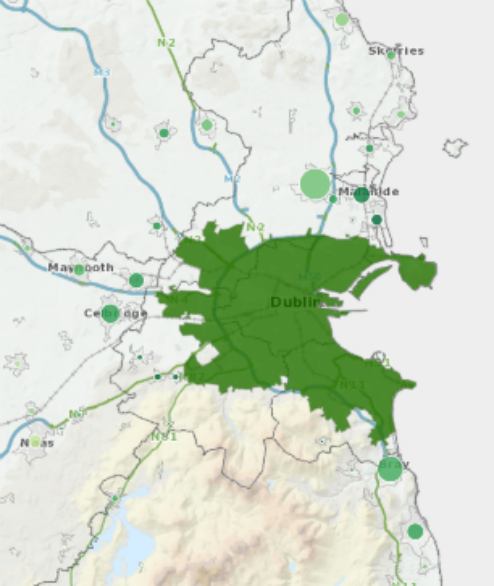 Celbridge is a commuter town with large numbers commuting to Dublin and other locations daily.
The Census 2016 "Feeder Towns into Each City" map states that
In 2016 there were 4,541 persons in the settlement of Celbridge who commuted to Dublin city and suburbs which equates to 48.4% of persons at work and living in Celbridge. Of these commuters 2,254 are women and 2,287 are men.

The average journey time of workers who commute from Celbridge to Dublin city and suburbs was 44 minutes and their average age was 41.
The introduction of a train service from Hazelhatch to Grand Canal Dock via the Phoenix Park Tunnel has been a real boost for commuters from Celbridge but very many in our town experience problems accessing the train at Hazelhatch or are uncomfortable with how crowded trains to Grand Canal Dock are. Until the capacity problems on Irish Rail are resolved, bus transport remains crucial for most commuters from Celbridge to Dublin city and suburbs.
Of those who commute to Dublin city and suburbs,  the mode of transport was
70% (3,144) by car,
19.6% (887) by bus
6.3% (285) by train
Comparing Celbridge with other towns in the Greater Dublin area like Swords, Malahide, Bray, Greystones, Maynooth and Leixlip that feed into Dublin city and suburbs it's apparent that the towns closest to rail lines have the highest percentage of population using rail services.
For all these feeder towns except Swords and Celbridge, a large number of residents can easily walk to the train station as they live within 1km. Residents of Swords live at least 4.8km away from Malahide train station.
While a small number of residents on the south side of Celbridge  could walk to Hazelhatch train station, most residents live at least 2.5km away and need to cross the only bridge over the Liffey in the town and this suffers from serious congestion. The vast majority of residents are 3-4km away from Hazelhatch train station.

Some trains from and to Hazelhatch are served by a feeder bus. Indicative schedules can be seen on the Irish Rail timetable but it should be noted that the morning buses need to leave earlier than the times indicated on the Irish Rail timetable in order to make it to the station on time.
Kildare Data Hub figures (possibly based off Census 2011 data so a bit dated) show the following commuting patterns:
The population of Celbridge in the workforce is 8413  and, of these,

5075 commute outside Co. Kildare,
1010 people  work in Celbridge
283 people  work in Leixlip,
252 people  work in Maynooth,
124 people  work in Naas,
47 people  work in Newbridge,
24 people  work in Kilcock,
22 people  work in Clane

2123 people work in Celbridge  and, of these, 1010 people both reside and work in Celbridge.
The following map, generated from AIRO's Census Mapping Module for Kildare shows how easily the people of North Kildare can get to a train station. Unsurprisingly, Celbridge fares way worse than North Kildare towns on the Maynooth train line. Residents north of the bridge apparently need 8-12 minutes to get to the station (obviously longer in peak-hour!).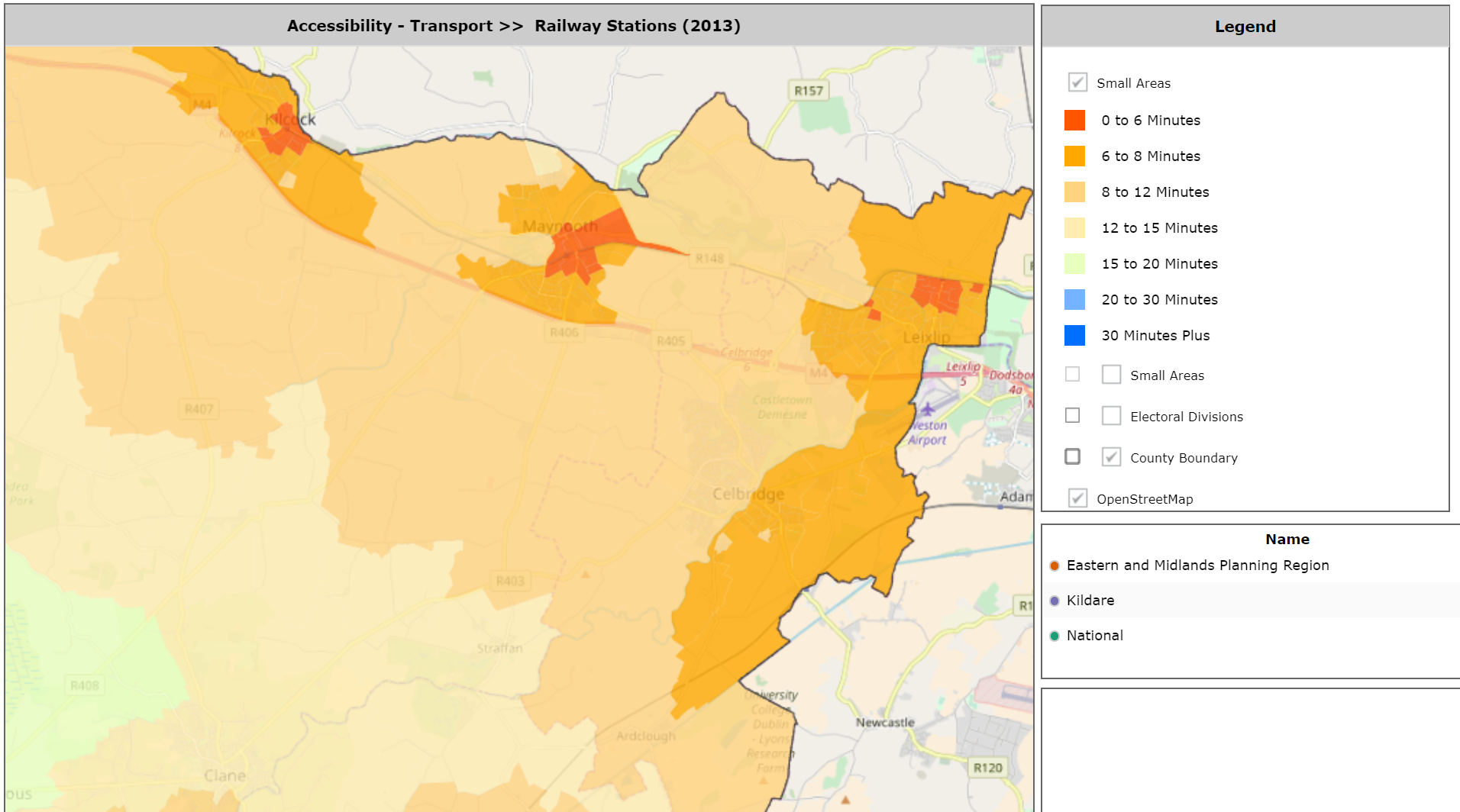 Transport Management Plan for Celbridge under 2017-2023 LAP
A Transport Management Plan and Public Transport Strategy for Celbridge was promised in the Celbridge LAP 2017-2023. Objective  MTO3.1 states that the Transport Management Plan and Public Transport Strategy should be prepared within 12 months of the adoption of the Celbridge LAP so this should have been completed by now but it is expected to take another year.
Everthing relating to public transport is being pushed into the BusConnects project.
Improving Safety for Pedestrians, Cyclists and Traffic Crossing the Liffey Bridge including Changes to Traffic Flows
The National Transport Authority and Kildare County Council published a report on 24th August 2018 regarding options available for pedestrians, cyclists and traffic to cross the Liffey Bridge more safely. Hard copies of the report have been provided to Celbridge-Leixlip Municipal District Councillors and North Kildare TDs. This report won't be available electronically until mid-September but we believe the report proposes
removal of the footpath on the current vehicular bridge to widen the space available for vehicular traffic
addition of a boardwalk on the outside of the bridge between the Bank of Ireland and the Abbey Lodge (McNamee's)
restrictions on traffic turning  up the Hazelhatch Road in an effort to alleviate traffic delays and congestion
possibly other traffic restrictions