Celbridge Youth Café opened in May 2010 as a place for teenagers to meet up during the week to have fun with friends. The opening of Celbridge Youth Café realised a vision for young people in Celbridge that was conceived a number of years earlier. From 2005, Celbridge Community Council sought out interested members of the community and formed a team of volunteers. The volunteers decided that the youth facility would take the format of a Youth Café. In 2008, Celbridge Community Council agreed with The Mill to locate the Youth Café in an old welding workshop.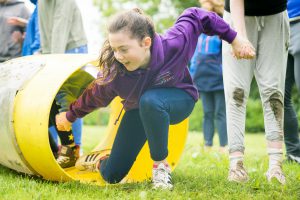 Workers on Community Employment Scheme placements completed most of the work of transforming the workshop into a Youth Café between 2008 and 2010. At the same time, volunteers worked hard with young people from St. Wolstan's Community School and the Salesian College to plan how Celbridge Youth Café would operate.
Young people and volunteers collaborate to run Celbridge Youth Café. It began as a drop-in space for young people in Transition, 5th and 6th Years. With support from new volunteers, we were able to cater for a younger age group by 2012. In 2016 the Youth Café ran its first Summer Camp. Following the huge successes of the summer camps in 2016 and 2017, we hope to continue these as an annual event.
Celbridge Community Council's Youth Café sub-committee operates Celbridge Youth Café. Celbridge Youth Café currently opens on Fridays evenings from 7:30pm – 9:30pm for teenagers in the area. Entry is only €3 and that includes snacks and soft drinks. Extra times are organised throughout the week as different activities come up.
Celbridge Community Council engaged in local fundraising activities and obtained HSE grants for the initial renovations and subsequent enhancements. Kildare County Council provided financial support for the summer camps.
If you would like to get involved, please get in touch with us.